Planning a date? Looking to organise the perfect work night out? Or maybe you just want to get some golf in with your mates? Then look no further – these are the best places to get your putt on in East London! Each of these crazy courses has it's own unique identity and individual challenges, so you may well want to give them all a go… but if you only have time for one, read on to find out which venue suits you best.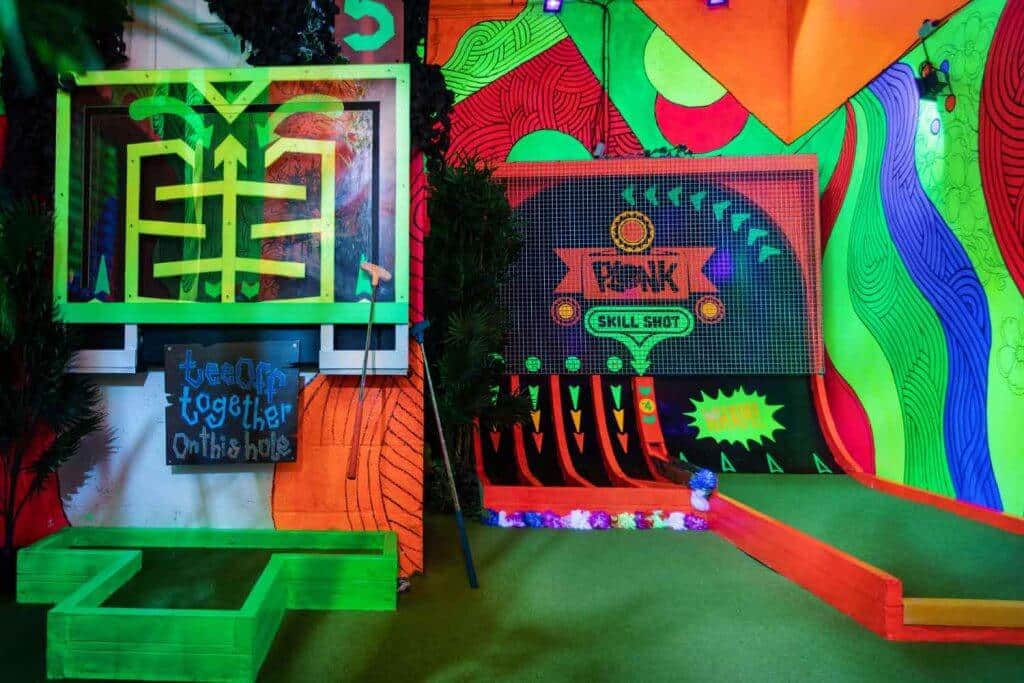 Plonk Crazy Golf, Hoxton
Ok, this isn't your typical crazy golf venue, but bear with us. Plonk Hoxton does feature a seven hole arcade style golf course, but that's not all – there's also arcades, table football, pinball, board games, and the first 4D Pong tables in the country! There's also a full bar and 'ClubsandWedges' house kitchen. This is the perfect venue if not everyone is totally on board with the whole crazy golf idea – even the most ardent anti-golfer will find something to enjoy here.
Swingers
Admittedly this course has a slightly confusing name – so it may not be the best suggestion for a first date – but don't worry, you won't be asked to put your keys in a bowl when you enter. Swingers is a little more expensive than the others on this list, so perfect for when you're trying to impress. It's also aimed at slightly more serious golfers, so if you want to practice your short game on somewhat less crazy holes before your next Saturday on the links, look no further! There's also a great cocktail bar with prices to match. Unfortunately this is an over 18s venue only, so if you want to play with the family you'll have to look elsewhere.
Junkyard Golf
Heard of upcycling? Junkyard have taken this concept to the next level. Probably the most hipster friendly course in London, you will be literally surrounded by a huge assortment of junk. There are four courses to challenge you, with themes ranging from creepy clowns to scrap car yards – so it's a bit more of an experience than some of the others around town.
Plonk Crazy Golf, Shoreditch
The crazy golf equivalent of a house party – cool, laid back vibe, made all the better by being BYOB. Nine holes of golfing fun, designed to be a stop on a night out instead of a place to spend the whole evening. It's the perfect crazy golf venue to chuck into the middle of a Shoreditch bar crawl. Why not grab some cheap bottles from the off licence and battle your mates for the crazy golf crown before heading onto the next stop? Loser buys the following round!
Whichever course you choose, you're sure to have a great time – and we'd bet that you'll be back to play the others before long!