London is amazing all-year-round – in the springtime, summertime, autumn, and wintertime. But for many locals and visitors, there is no time like winter. The winter holiday is a favourite for many people because it is that time of the year that everyone spends time with their family.
When it comes to winter and Christmas holidays, London is arguably one of the most amazing places to be. The streets are covered in beautiful Christmas lights, and there are plenty of cool and fun things to do.
If you are planning a trip to London this winter, we have put together these 5 cool and fun activities to do.
Ice Skating
Apart from Christmas lights, another sign that Christmas is around the corner is when skating rinks begin to pop up. There are new openings every winter throughout the city, so ice skating is something that you cannot possibly miss. Go out with your family and friends and have great fun skating. It is even more fun when you go skating at night because the lights add a beautiful backdrop to the entire experience.
Several popular rinks are open throughout winter but ensure that you check out the skating rinks at the National History Museum, Somerset House, and Tower of London.
Lumiere Festival
If you are going to be in London till the end of January, then you should look up the Lumiere Festival. The festival will feature a series of light installations by contemporary artists all over London.
This year's festival will take place in six locations including Kings Cross, the West End, Mayfair, Westminster, Waterloo, and nearby Fitzrovia. The light installations will be visible from 5:30 until late night – you do not want to miss them. If you are visiting London in January and you will love to witness the festival, try to time your visit to catch the event.
Enjoy some afternoon tea
Everyone knows that tea is a big deal in England, and we are not just talking about the regular breakfast tea, but afternoon tea – a ritual in the country. You will find many hotels, restaurants, and teahouses in London serving a variety of hot brews accompanied by delicious scones, sandwiches, and other savoury and sweet finger food. What better way to warm up on a cold winter afternoon?
However, a quality tea experience in London can be pricey, which can start around £50 for the full works. There are hundreds of spots to choose from to have afternoon tea with your date in London.
Crazy Golfing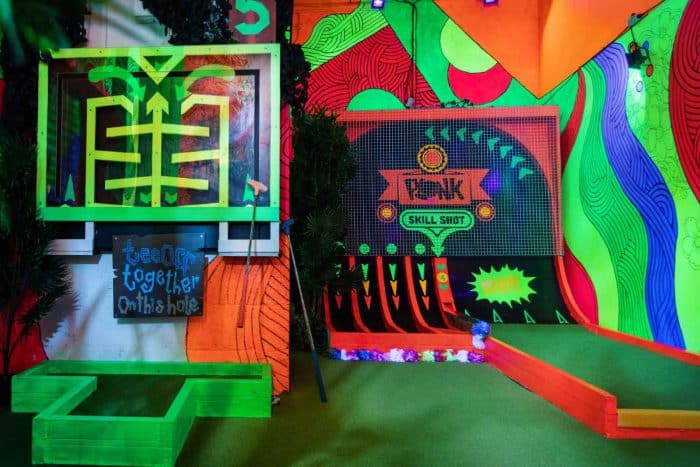 If you are looking for an engaging activity that you and your friends and family can engage in, then you should visit Plonk Golfs venues in Camden and London Fields if you are visiting. Although the venues are open throughout the year, the holiday season makes a perfect time to enjoy some crazy golfing.
Street art tour in London
There is never a time of the year when you can't go on a street art tour. London's art scene is always alive throughout the year. Even in winter. This is one of the reasons why the city is considered a great street art destination. There are street tours that you can take in winter, or you can simply discover some of the best street art spots and create your own touring experience. Places like Hackney, Shoreditch and Brick Lane are packed with amazing pieces.