Let's face it. Planning an event – be it a birthday party, work social, product launch or Christmas party – is a bit of a hassle. You want to make sure everyone has a good time, but people are difficult. You want to get the right space, but there are countless options out there. You want to cry due to the pressure, but you don't want to give life the satisfaction. Going to parties is great – organising them, not so much. We understand. That's why we're here to help. Looking for a cool venue in Shoreditch? Here are five to start you off.
Shoreditch Tree House
Looking for some rustic charm in the heart of East London? Then check out this breathtakingly beautiful loft space in Shoreditch. Featuring high wooden ceilings, fairy lights, plants and 12 large windows that surround the venue, allowing floods of natural light to come in all day. It's not the biggest space, with a capacity of 25 seated or 80 standing, but for a small gathering it could be perfect. One downside though – you'll have to organise your own catering.
Queen of Hoxton Rooftop
After something a bit more trendy? The Queen of Hoxton's rooftop terrace has become a celebrated part of the Shoreditch skyline, and the space undergoes twice-yearly transformation – so every summer and every winter has a different theme! This summer they've gone for a Mexican vibe, inspired by the female Lucha Libre wrestlers of Mexico and beyond, which means that it's sure to be a long hot summer of tacos, tequila and frozen Margaritas. If your guests are feeling particularly brave after a few drinks, they can even learn some moves in the wrestling ring! Unfortunately the rooftop can only be hired during the day, but it's got a large capacity so if you and up to 300 friends want to party before sunset then it's worth a look.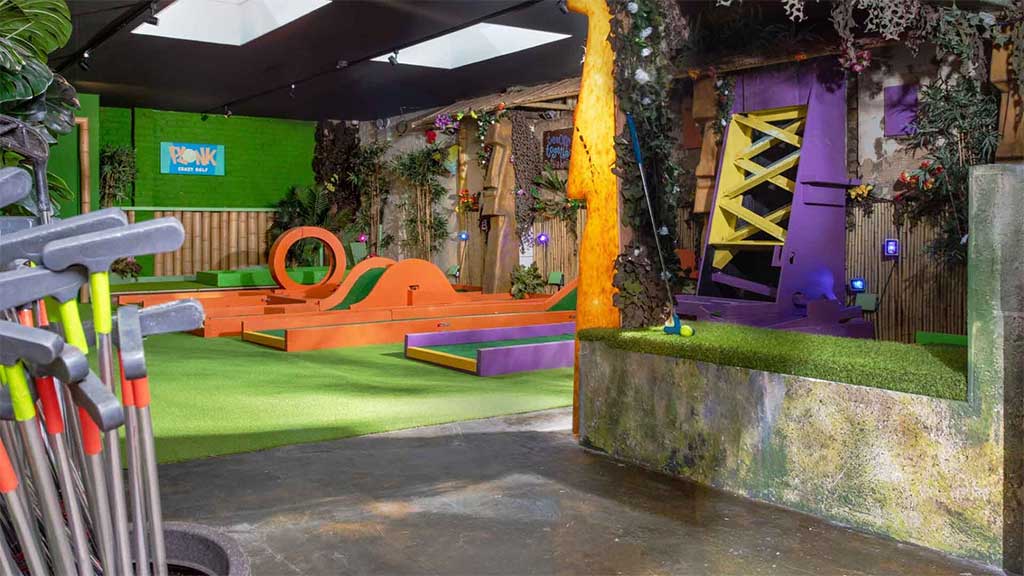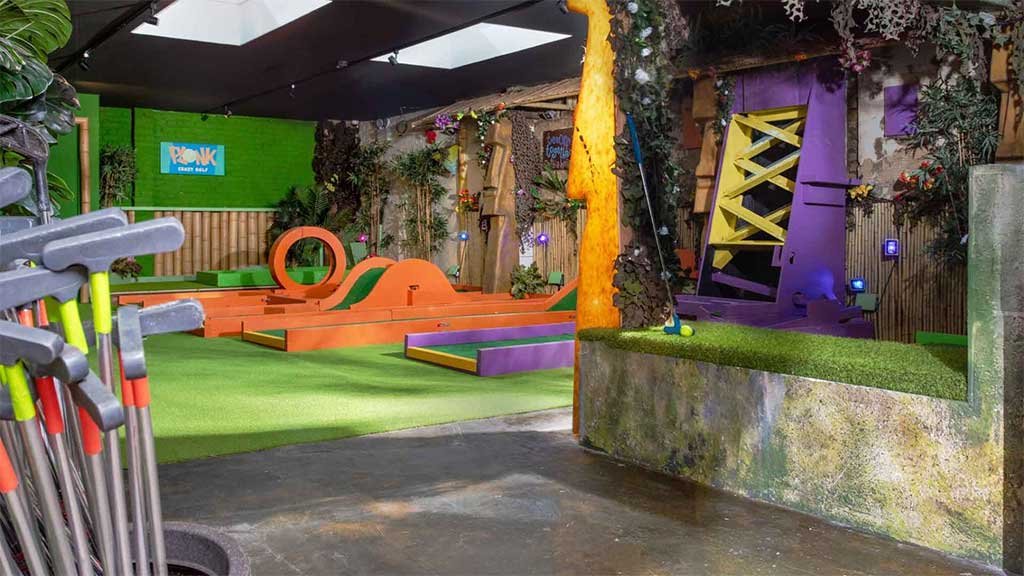 Think your guests would prefer to challenge each other to some games? Then get in touch with Plonk Hoxton! This isn't just another golf course – it's Plonk's first full games bar and kitchen. There is of course a seven hole arcade style golf course, but there's also classic arcade machines, modern pinball, foosball and more. There's even brand new 4D Pong, which you won't find anywhere else in the country! Food is served out of their 'ClubsandWedges' kitchen and the full bar will make sure no one goes thirsty. It has a capacity of up to 120 people, and is available to hire for both daytime and evening events.
Red Rooster Shoreditch
Looking for a restaurant? This Harlem institution has come to Shoreditch! Red Rooster celebrates the roots of American cuisine, channelling Southern soul food alongside the diverse culinary traditions of New York and Northern Europe. Popular dishes include the famous Obama Short Ribs and Fried Yard Bird – so if you have some foodie friends get in touch about booking their private dining room that can accommodate up to 18, or their split level indoor courtyard with space for 24, a private bar and retractable roof!
Looking Glass Cocktail Club
Are your friends serious about their cocktails? On a dingy side street off the main Shoreditch drag, shielded by the hustle and bustle of Hackney Road, is one of London's best speak easy cocktail clubs. This is a relaxed industrial yet vintage space, where you and your guests can escape the streets of Shoreditch and sip on high end innovative cocktails. Hire the Secret Bar and you'll journey behind the looking glass into the secret private space that can accommodate up to 150 people!