Planning a Christmas party in London? Not to worry, we have gathered 5 perfect Christmas party venues to get you in the festive mood.
London is one of the best cities to spend Christmas. The city comes alive with Christmas lights lining the streets and buildings. This is by far the best festive period for most people all over the world. So, whether you are a local or a guest visiting London for Christmas, there are a lot of fun memories to be made.
London is packed with many venues that can be hired for parties, events, meetings, and other uses. As for Christmas party venues, there are several options available that can fit different budgets. You can get an affordable Christmas party venue that is worth every penny and does not compromise quality.
Here are the five perfect Christmas party venues for hire in London:
Mac and Wild City
Mac and Wild offer unique Highland hospitality and serve the best of Scottish produce. The venue is located right in the heart of London, and a two-minute walk from Liverpool station. The venue features a private dining room, which is perfect for Christmas parties. There is also a bar and a shooting range. Mac and Wild City makes a great choice for a Christmas party with family and offers a cosy ambiance that is suitable for the festive season.
Pizza Pilgrim
The Pizza Pilgrim might be the perfect venue for your Christmas party. The venue is packed with a selection of activities and games from foosball to Mario Kart to keep everyone at the party entertained. There is a fantastic terrace overlooking the Canary Warf and a dedicated team that will ensure that you and your guests have a great time. The venue has a decent capacity of 45 dinners and 90 standing. If you have a large family, this venue is worth considering.
Merci Marie
If you are looking for a private space for your Christmas party, then you should consider Merci Marie. It is a cosy and welcoming space hidden off the busy high streets. It is a popular choice for corporate events, creative business events, receptions, private lunch, and workshops. Merci Marie has all the features that a Christmas party venue should have including a professional kitchen, and it can seat up to 60 people.
Barrio Shoreditch
If you are looking for the perfect venue to throw a lively Christmas party, then you should add Barrio Shoreditch to your list. This venue is versatile, and it has a lively atmosphere – it is a vibrant and beautifully lit space that is suitable for any occasion like sports screening, summer BBQ, birthday parties, and Christmas parties. The best part is that it has a dancefloor and a DJ booth. There is a private room, a private bar, terrace, and more.
The Plonk Clubhouse is located right in the centre of Hoxton, and minutes from the overground station. The Hoxton Clubhouse is not just another mini-golf course, but a games bar that is packed with a range of fun activities to entertain every guest. This venue is the ideal Christmas venue because it has the most exciting atmosphere you can find in London – the venue is extremely colourful and fitting for a Christmas party. The venue is for hire for parties and events of any kind, all you need to do is go with your guests and the party is set. The Clubhouse has a wide selection of drinks at the bar, there are also in-house catering services.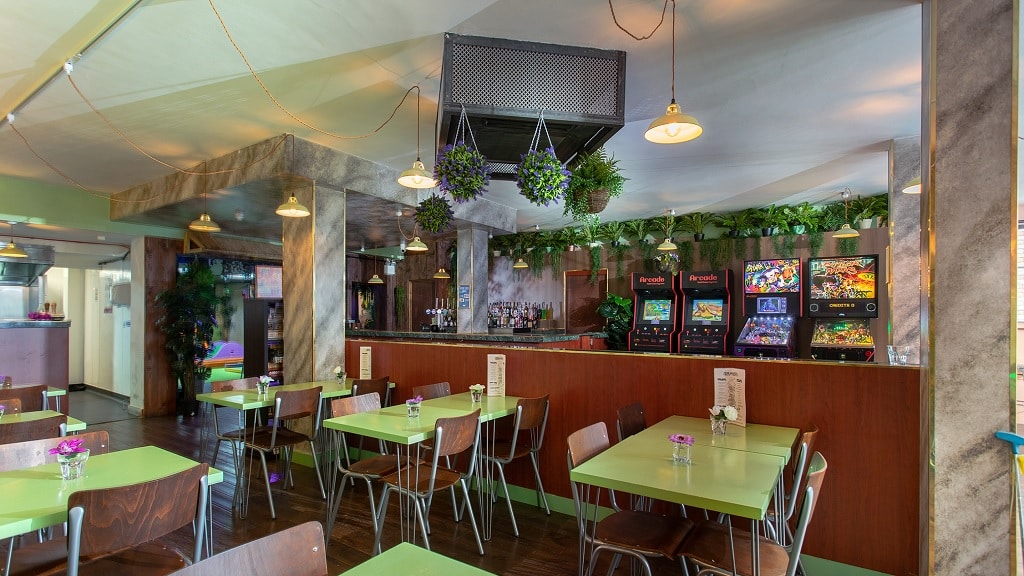 If you are up for it, you and your guests can take on the seven-hole Arcade Golf Course, modern pinball, foosball, board games, and 4d pong. Hosting your Christmas party at the Plonk Clubhouse in Hoxton offers a great opportunity to create lasting Christmas memories.