The Coolest Crazy Golf Courses in The World
Crazy golf courses have always been around, and they are only getting more popular. If you are thinking about locating the coolest crazy golf courses in the world, do not worry, we have made this article just for you.
Molten Mountain
Location: Myrtle Beach, South Carolina
One of the most unique crazy golf courses, Molten Mountain, is located in South Carolina and offers visitors the experience of a lifetime. The golf course features a near accurate volcanic eruption that erupts every half hour as crazy golfers challenge to take on the 36 or 18 hole courses. The 18-hole course is located inside the volcano and is air-conditioned, featuring mini volcanoes, caverns, and more.
Apart from crazy golfing, there is so much more to do at the Molten Mountain including arcade games, and other fun activities that you can engage in should you want to try something other than mini golfing. Challenges like the mischief spinner will add a new complication to every hole and make the experience more exciting. Some challenges may require you to swing with your eyes closed.
Plonk Golf
Location: United Kingdom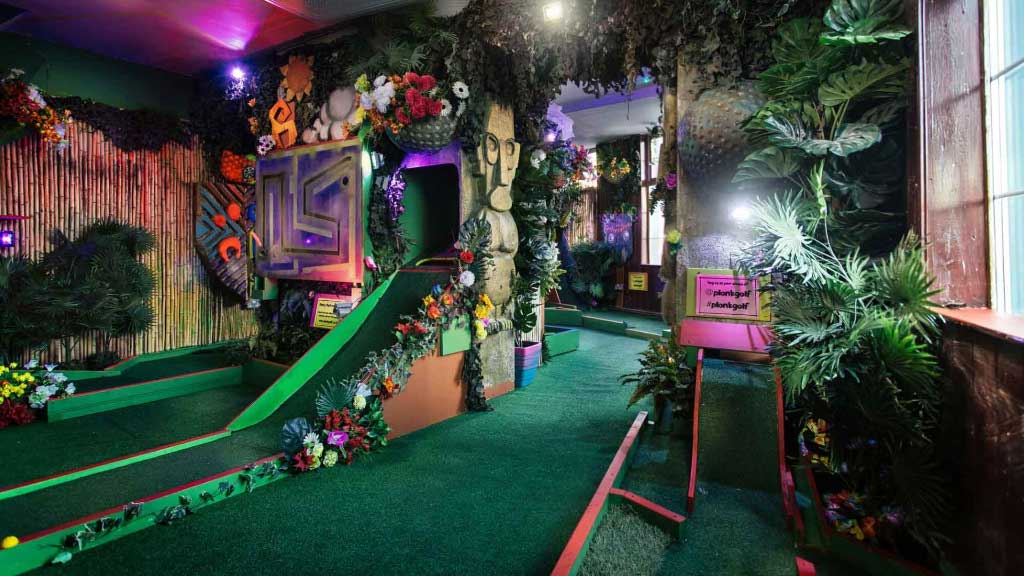 Plonk was developed by a group of designers with experience in the film industry who came up with a plan to create the craziest mini golf course ever. The first Plonk venue in Haggerston, London, was launched in 2014 and was built from 100% up-cycled materials collected from the streets of Hackney. Plonk Crazy Golf has expanded and increased the number of its venues across the UK and Europe, taking their crazy mini golf courses to more people across the UK and Europe.
Plonk venues are located nearby and within popular locations in London, partnering with award-winning pubs, bars and museums to create a unique mini golf experience.
Plonk Golf has a series of indoor and outdoor mini-golf courses with different themes in London Zoo, Hoxton, Shoreditch, Camden, and Islington.
Treasure Island Adventure Golf
Location: Auckland, New Zealand
This pirate-themed crazy golf course is the standard of what a crazy golf course should look like, but only a few pull it off as well as Treasure Island at Auckland Airport. The crazy course features two 18-hole courses, Blackbeard's and Captains, and arcade games. The course was recently upgraded with new obstacles.
The scale of Treasure Island's features is impressive, with life-size pirate ships and pirate figures which are impressively realistic and scary! And the cascading waterfalls are quite immense. The mini golf course is currently run by the Original Adventure Golf Company.
Dino Park
Location: Phuket, Thailand
Dino Park is one of the best mini golf course spots if it isn't the best already. This mini golf course is located in Phuket, a popular city in Thailand. The designer's goal was to create an adaptation of a fan favourite movie, Jurassic Park. The course offers its visitors a close to the authentic experience of a Jurassic Park with replicas of dinosaurs, and also recreating the environment in which they inhabited. There is a roaring T Rex, a 40-foot waterfall, a Flintstone-style caddie, and challenging holes.
This mini golf course was launched in 2007.  And its popularity has been on a steady climb ever since.
Wild Abyss Mini Golf
Location: Wisconsin Dells, Wisconsin
The Wild Abyss Mini Golf is nested in different locations at the Wilderness Resort in Wisconsin. These mini golf courses are designed to offer plenty of fun and excitement for the entire family – Mom, Dad and kids. There is a 3D element that allows visitors to choose between the Big Fish course (located at the lake in Wilderness Resort), Wild Abyss Course (located in the West region of Wilderness Resort), or the Wild Buccaneer Course.
What we find the most fascinating about Wild Abyss is the cool aquariums and the lighting of the indoor 3D mini golf course. It is amazing!