Christmas Party Venues in London
It is that time of year once again when all of our thoughts start turning towards Christmas. With the festive season fast approaching, you may be wondering about organising your office party, or planning some fun things to do with family and friends over the Christmas Period. Look no further than Plonk! We are here to help!
Our exciting mini-golf courses are the perfect venue for your Christmas party, with a great combination of tricky courses to navigate and a range of delicious food and drink on hand with great hospitality offered by our venue hosts, you simply cannot go wrong.
Here are our top five Christmas party venues across London for you to enjoy this festive season:
Our seven-hole arcade sized course based within the first floor Arcade at the Victoria Tavern, Islington, is a true marvel of engineering. A fantastic venue to hold your Christmas party, especially for those more competitive crazy golfers amongst you with a very challenging course.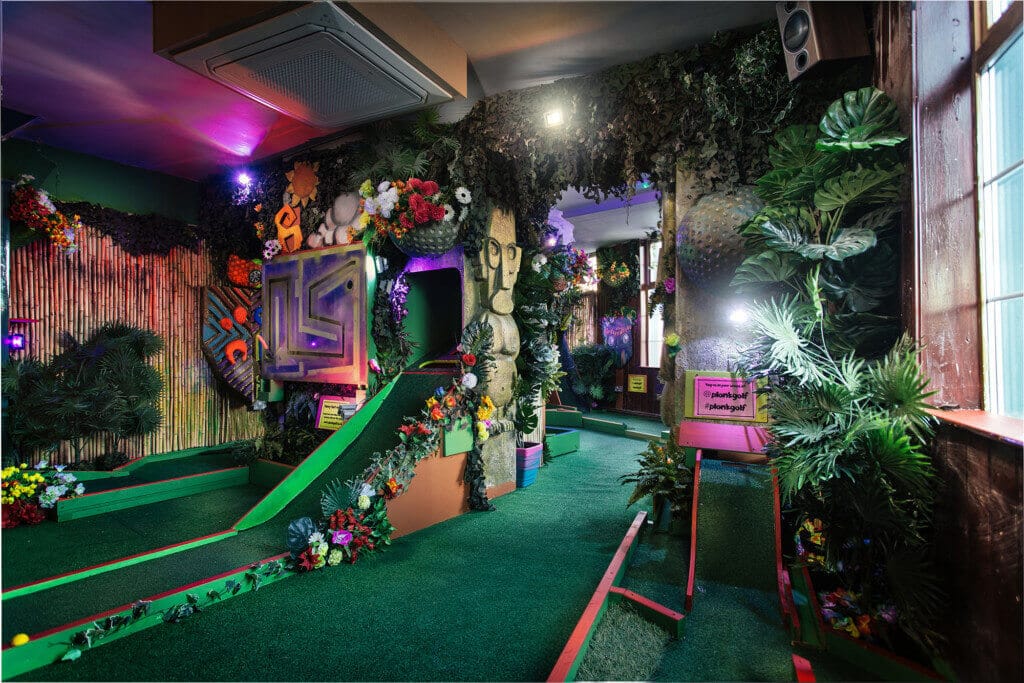 With a superb pizza kitchen and two fully stocked bars, you can have your whole Christmas party refreshments covered.
Grab a slice of tropical sunshine in the middle of winter for your next Christmas party with our Island Paradise themed crazy golf course! The Peckham Levels décor gave us the inspiration for our crazy tropical theme, and our golf course is something truly special too!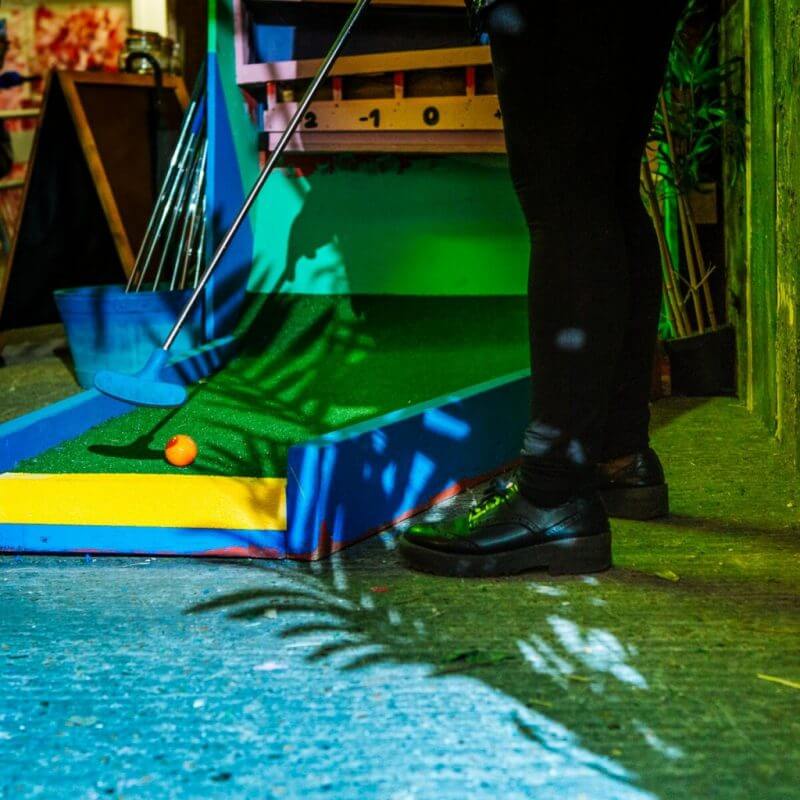 Grab a bite to eat and a refreshing drink from any of the three cafe-bars or nine other food vendors in the area to enjoy while you play.
What can we say about our Battersea course other than it is a little course with a big heart! We may nickname it 'Tiny and Shiny' but don't let our mini-golf course fool you – our engineers pulled out all the stops to create a 'golf-stacle' course that packs a real punch.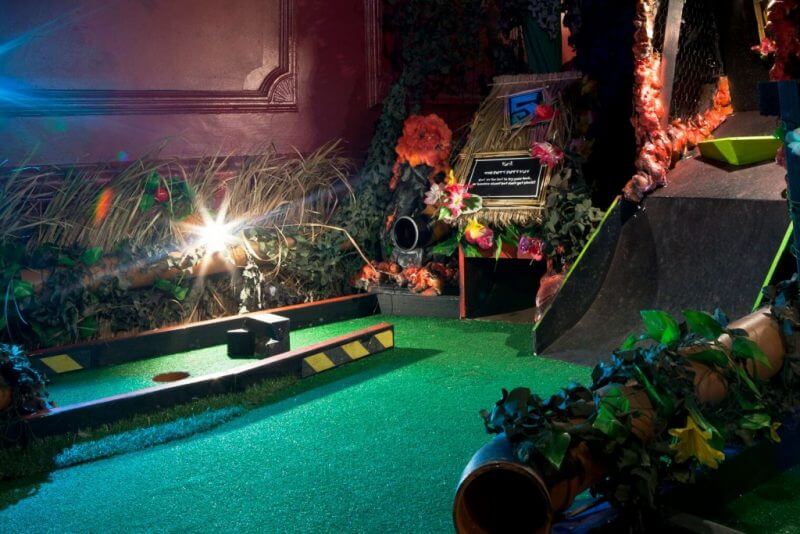 Based at The Four Thieves Pub, you can have a fun Christmas golf party with plenty of entertainment on the side and an excellent microbrewery on tap.
Our outdoor-based crazy-golf course is set within the beer garden at the Peoples Park Tavern. But this doesn't mean you cannot play after dark this Christmas! Our course is a colour-drenched experience that is fully flood lit at night to give a very different vibe after dark.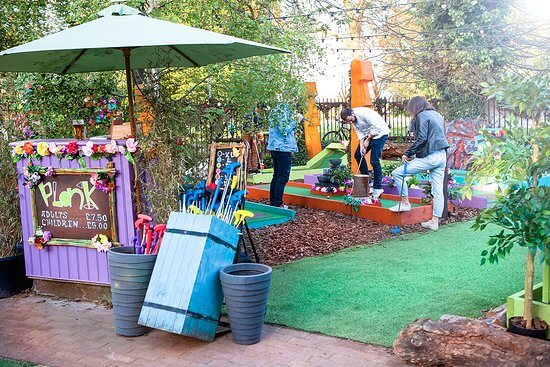 Make the most of some special craft ales on tap from the tavern's very own microbrewery, or treat yourself to a Christmas cocktail to make your Christmas party extra special.
What could be a better setting for your Christmas party than at Plonk! Winterville where the fairground meets the fairway. Our nine-hole UV-powered indoor course is unique because it sits within a converted vintage Dodgems track. With plenty of loop da loops and skeeball holes to challenge your skills, your Christmas party couldn't be set in a better atmosphere!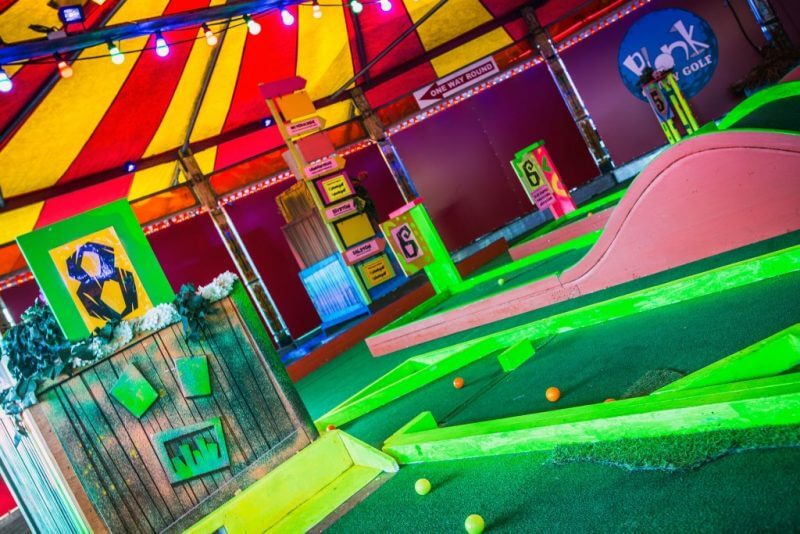 Hop along to Bar Humbug or the Happy Cabins to grab a festive drink to take along with you while you golf.